Launches ‌AI DataStudio — the enterprise solution for building context-specific language models 
San Francisco, CA – March 29, 2023 – Lilt, the most advanced AI solution for enterprise translation, today announced the launch of the Contextual AI Engine, a new GPT-style model for verified, enterprise-grade translation that delivers superior performance to GPT-4 and Google Translate. The Contextual AI Engine uses In-Context Learning (ICL) to model language for applications in legal, marketing, product, and many other enterprise use cases.
ICL is enabled by context-specific data, which many enterprises lack. To solve that problem, Lilt is also introducing AI DataStudio, which empowers companies to build their own language models with an affordable, scalable solution for data creation.
The rise of AI products like ChatGPT has galvanized many businesses to evaluate the efficacy of business functions that can be automated to increase scale and reach. Language services are at the top of that list.
"Worldwide consumer interest in Generative AI has inspired businesses to rapidly integrate AI into their competitive strategies. We spoke to executives whose perceptions of AI changed, seemingly overnight, from too-risky to must-have," said Lilt CEO, Spence Green. "Since 2015, we've been widely recognized as the pioneer of AI-enabled language services. Today we're releasing the next generation of our revolutionary language technology."
Contextual AI Engine Outperforms Google Translate and GPT-4
Today, Lilt released the Contextual AI Engine, which uses a unique ICL approach to achieve higher accuracy than Google Translate and GPT-4 for many enterprise contexts. When paired with human evaluators as a factuality and verification step, the Contextual AI Engine offers the most affordable, scalable, and flexible approach to enterprise language applications.
The Contextual AI Engine has 5x more parameters than Lilt's previous engine, resulting in faster, more accurate translations. However, since Lilt's models are built for translation, they are more compact and efficient, with over 1000x fewer parameters than GPT-4, which reduces compute costs and overall energy consumption. This is beneficial for enterprises and governments that want to run the model in their own compute environments, giving them complete control and access to the data, while also minimizing compute costs.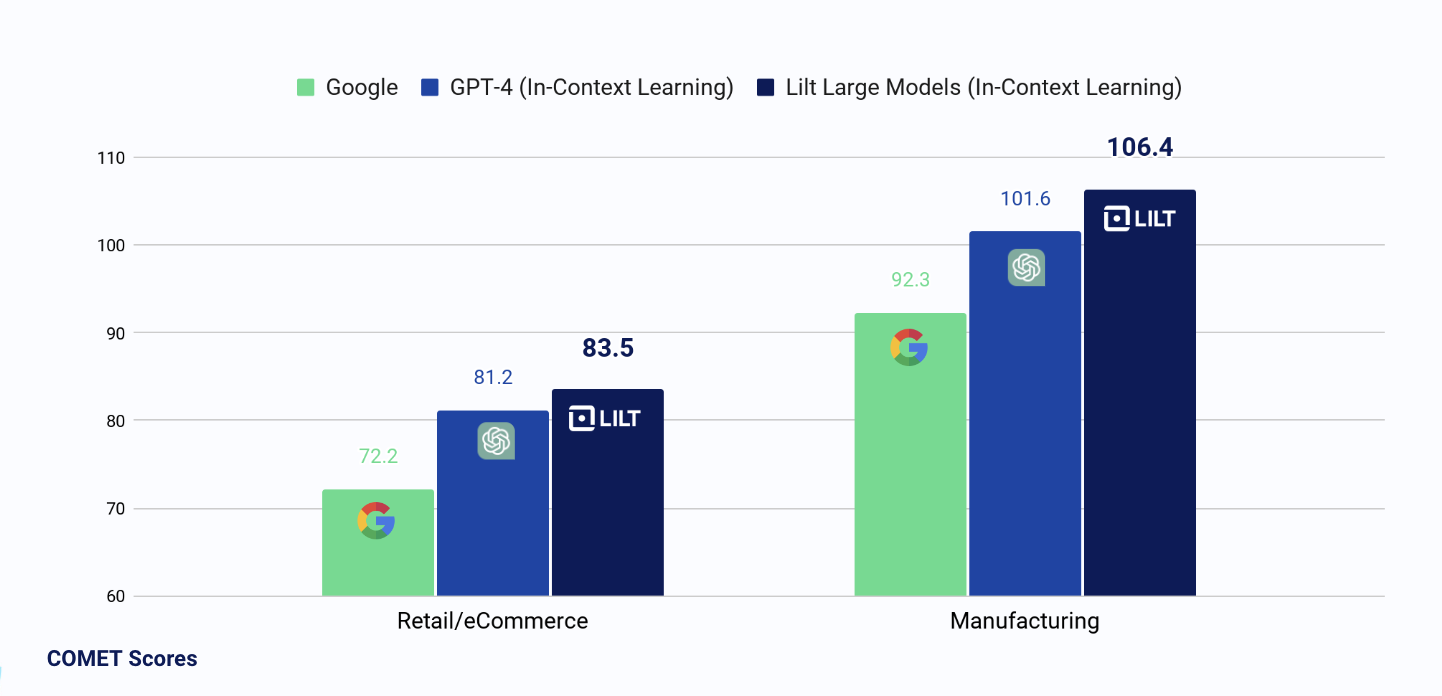 Customers expect to interact with enterprises in their preferred language. Before the Contextual AI Engine, a complete global customer experience was operationally challenging and cost-prohibitive.
"Fundamentally, Lilt was founded to make the internet multilingual," said Lilt Co-Founder and Chief Scientist John DeNero. "Our large language models for translation further that mission, bringing together the benefits of human-level verification and data-driven AI to create an outcome that is better than either the human or machine alone could achieve."
The development of the Contextual AI Engine has been a twelve-month endeavor, requiring Lilt's Natural Language Processing (NLP) Research team to rebuild the system architecture to support low worldwide latency for large models. The neural network used by the Contextual AI Engine is both deeper and wider than previous versions, increasing the model's capacity to create novel representations of meaning using additional non-linear transformations and then allowing for those representations to express additional details about language and make more nuanced distinctions between meanings.
AI DataStudio Opens Access to Lilt's Leading LLMs
In-Context Learning (ICL) is most effective when training data is recent, context-specific, and verified. However, most businesses lack this data, so they struggle to deploy context-specific models. Moreover, the rise of generative AI means that it is increasingly difficult to detect AI-generated text in data supply chains.
Lilt AI DataStudio solves both of these problems with an API-first, scalable data creation architecture in more than 60 languages. It includes built-in support for fraud detection of AI-generated text, which undermines the effectiveness of ICL. AI DataStudio is the same enterprise-grade architecture that Lilt uses to create training data for its own systems, and for its most demanding government customers. AI DataStudio is available for all enterprises.
AI DataStudio and the Contextual AI Engine now offer enterprises a complete solution to building and deploying large models for the most demanding enterprise language applications. The solution offers both cloud-native and self-managed options, giving businesses maximum security, control and flexibility.
For more information, please reach out to contact@lilt.com.
• • •
About Lilt
Lilt is the leading AI solution for enterprise translations. Our stack, made up of our Contextual AI Engine, Connector APIs, and Human Feedback, enables global organizations to adopt a true AI translation strategy, focusing on business outcomes instead of outputs. With Lilt, innovative, category-defining organizations like Intel, ASICS, WalkMe, and Canva are using AI technology to deliver multilingual, digital customer experiences at scale.
Visit us at lilt.com or contact us at contact@lilt.com.